Disruptive pirate cookware - serial crowdfunding
"I once tried to run a crowdfunding campaign myself, but I failed. Now I want to do it better, so I want to work with the best". This is how Tacco Marijnen, founder of Crowd Cookware, approached us. "Let's talk!", we said, and we sat down to hear more about his ideas. A trader in overstock of cookware, Tacco knows how much money consumers pay for big brand products. To him, it's a shame that in order to get access to high quality cookware, consumers often pay crazy amounts of money for the big brand frills: marketing, events and other big brand activities that don't directly translate to product value or quality. That's why he set out to launch a line of top notch cookware for a fraction of the price. Being amateur chefs ourselves, we could identify with the problem and loved the idea of getting the highest quality cookware for a fraction of the price.
Story
For Crowd Cookware's initial campaign we focused on the fact that Tacco is actually 'hacking' the cookware industry. He really is somewhat of a pirate himself. So the campaign needed a pirate-like approach: with The Blackbeard we would avoid the beaten tracks of the big brands by following a faster 'smuggling route' that led us directly to the source: the factories that manufacture for top brands. This enabled Crowd Cookware to drastically cut costs, which meant that backers would get a premium pan at a significantly lower price.
Strategy
A good story doesn't guarantee success so we worked on premium PR exposure, designing a rock-solid campaign page and engaging backers during the campaign. The Blackbeard was well-received by renown international food press outlets, including Tasting Table, which wrote: "Imagine Blackbeard as the first thing that would come out of Tony Stark's lab if he decided to trade Iron Man suits for high-tech skillets."

Thanks to the high quality campaign page and our personal Kickstarter contacts, the Blackbeard's campaign gained a prominent position on Kickstarter and thus received major traction from the Kickstarter community.
As a "Thank You" to Blackbeard's backers, we suggested to Tacco to surprise backers by making personal deliveries in Amsterdam, New York and Paris to show that Crowd Cookware truly drives their new products forward together with the crowd. Their reaction was priceless...
Backers loved The Blackbeard, making it Kickstarter's biggest food success that summer. Talking to backers taught us they were looking for a whole cookware set; so by popular demand Tacco launched a second campaign - the Blackbeard cookware set. This too became a success, gaining the trust of 2,069 backers and raising €316,862. And after that, we successfully launched a third Crowd Cookware Kickstarter campaign, for The Wigbold chef's knife.
Two of Crowd Cookware's campaigns were elected a) 'featured project' in the food category, b) were mentioned on top of Kickstarter's happening newsletter and c) even made it to featured project on top of the Kickstarter homepage, leading to worldwide exposure. This is like a hattrick in soccer, but such a three-time-score actually is even rarer in the world of Kickstarter than it is in the world of soccer.
4 campaigns
€ 931.000 / $ 1.019.243 raised
10.657 backers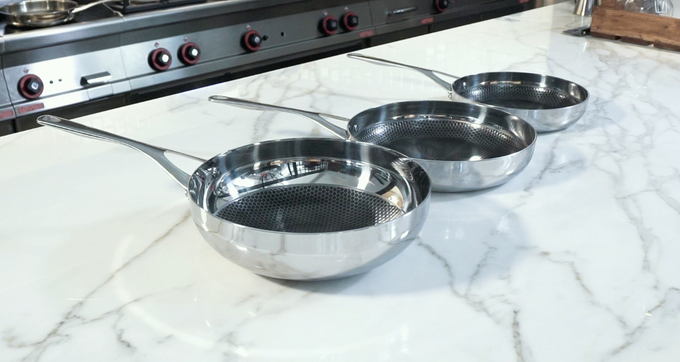 From the very first start it was clear to me that I was talking to the absolute authorities in the field of crowdfunding: knowledgeable, experienced, inspiring and effective. True guides into the world of crowdfunding. And people with a genuine mission to work with the crowd and underpromise and overdeliver. Thus far, the campaigns we worked on together mobilized thousands of backers worldwide, raised significant awareness and over 850.000 euro's, within a year. Working with them is a challenge worth while.